TOEFL Private Tutoring in Buenos Aires (Argentina)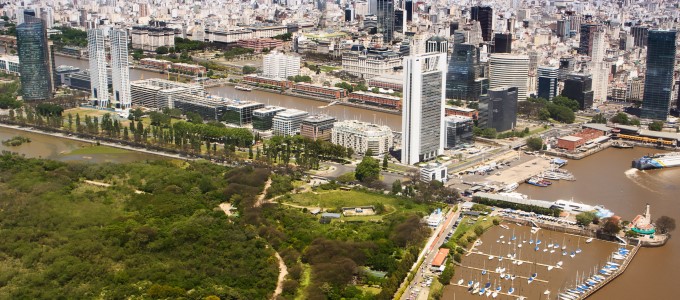 Buenos Aires students who wish to meet the rigorous Test of English as a Foreign Language (TOEFL) standards of selective undergraduate or graduate programs should consider Manhattan Review's TOEFL prep services. We offer on-site TOEFL prep courses, online TOEFL classes, TOEFL private tutoring, and TOEFL practice tests for Buenos Aires students interested in significantly improving their TOEFL skills and academic English. Manhattan Review has been the industry's leading provider of test prep for international students since we were founded in 1999, and we have successfully guided thousands of students all over the world to the TOEFL scores required or expected by their preferred degree programs. Students in Manhattan Review's TOEFL prep courses or TOEFL tutoring learn how to use speaking, reading, writing, and listening abilities to reinforce each other and facilitate strong communication skills. Our highly qualified Buenos Aires classroom teachers and private tutors also show our students how to create effective study plans and how to use proven test-taking strategies. Get started today on the most comprehensive TOEFL prep in Buenos Aires by contacting Manhattan Review for more information on our TOEFL services.
Passing TOEFL scores, which are established by individual schools, departments, and degree programs, can be affected by factors such as subject matter emphasis, degree level, and type of admission. At Georgetown University, minimum TOEFL scores can range from a low of 80 to a high of 100, depending on the specific department and/or program. The general standard for Georgetown's Graduate School of Arts and Sciences is a total score of 80, but many departments within this division have higher standards. The McCourt School of Public Policy requires a score of at least 100 from all of its applicants. At Georgetown Law Center, the total score must be 100 or higher, and each of the four sectional scores cannot be lower than 25. The School of Continuing Studies has a slightly lesser standard of 90-100, probably because their programs are intended for working adults rather than full-time students. It is advisable for students to begin their TOEFL preparation by assessing the score requirements of each school and degree offering they are considering.
Manhattan Review's TOEFL prep services have helped several thousand international students pass the TOEFL and begin undergraduate or graduate degree programs at top universities. Our TOEFL clients have been accepted to Georgetown, Carnegie Mellon, Princeton, Harvard, the University of Chicago, Brown, Stanford, Columbia, the University of Virginia, Cornell, Dartmouth, Johns Hopkins, UC Berkeley, New York University, and the Massachusetts Institute of Technology. Our former TOEFL students have developed the English-language skills necessary to pursue careers in the United States, at Fortune 500 companies such as Berkshire Hathaway, New York Life Insurance, Archer Daniels Midland, Enterprise Products Partners, and JP Morgan Chase. After completing their degree programs, some of our past Buenos Aires test prep students have decided to return home in order to accept job offerings from local firms such as Alpargatas Argentina, Arcos Dorados Holdings, Coto Supermarkets, and Telecom Argentina. With Manhattan Review's TOEFL prep services in Buenos Aires, you can start building important skills for success in your college coursework and future career.
TOEFL Private Tutoring
Hours package 12 to 48 hours, Personalized 1-on-1 Tutoring, In Person or Live Online
TOEFL Private Course
12 hours in total, Personalized 1-on-1 Course, In Person or Live Online

Helpful! Very thorough.
- Kate (This student took our Negotiation and Decision Making Seminar.)
Buenos Aires
Primary Course Venue:

Hilton Buenos Aires
Av. Macacha Güemes 351
Buenos Aires C1106BKG, Argentina

NOTE: We do NOT typically have staff at the venue, so email us before visiting the venue.
Meet a Buenos Aires TOEFL Tutor: Bradford M.
Bradford M., originally from Boston, Massachusetts, holds a bachelor's degree in English from the University of Massachusetts-Boston and a master's degree in education from Boston University. He has nine years of experience as a TOEFL prep tutor, English as a second language instructor, and secondary school English teacher.
Bradford's TOEFL students have begun degree programs in a large number of academic disciplines at top universities in the United States, Canada, England, Ireland, Australia, and South Africa. He has been with Manhattan Review in Buenos Aires since 2015, and was previously affiliated with our Boston office. When he's not teaching, Bradford stays in shape through biking and strength training.